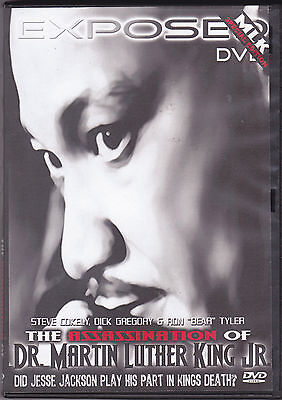 EXPOSED: THE ASSASSINATION OF DR. MARTIN LUTHER KING, JR.
EXPOSED: THIS DVD EXPOSES THE TRUTH ABOUT THE ASSASSINATION OF DR. MARTIN LUTHER KING JR. WHAT WENT ON THE DAYS BEFORE HIS DEATH? FIND OUT WHO THE INVADERS ARE AND THE ROLE THEY PLAYED. STEVE COKELY, DICK GREGORY AND OTHERS DETAIL NEVER BEFORE SEEN EVIDENCE AND FACTS. DID JESSE JACKSON BETRAY KING? DID HE SENSE SOMETHING WAS WRONG IN HIS CAMP? WHY DIDN'T MAINSTREAM MEDIA COVER THE CIVIL TRIAL? FIND OUT WHY THEY HAD TO SILENCE DR. KING PERMANENTLY...A MAN WITH THAT MUCH POWER CAN CHANGE THE WORLD!
ONE PREACHER UNWITTINGLY ADMITS TO HIS OWN ROLE IN THE MURDER. WHY DIDN'T MAINSTREAM MEDIA COVER THE CIVIL TRIAL? AFTER WATCHING THIS DVD, I CAN'T SEE HOW ANY BLACK PERSON CAN EVER TRUST THEIR PREACHER AGAIN.
DR. UMAR A. JOHNSON: BLACK BOYS SCHOOL TO PRISON PIPELINE
Fascinating material. Dr. Johnson outlines and explains why police are in our schools and the traps that have been deliberately laid for our young men. This dynamic young brother's passion for this subject matter is soul stirring.Also check out his lecture
Post Traumatic Slave Syndrome.
SLAVERY BY ANOTHER NAME- (PBS DOCUMENTARY)
This PBS documentary details in matter of fact tone why things are the way they are. The strongest argument for reparations is right here in front of you.
THE COTTON PICKIN' TRUTH: STILL ON THE PLANTATION
Heartbreaking-heart wrenching. This documentary literally made me want to hop into my car and drive to Mississippi.
INVISIBLE EMPIRE: A NEW WORLD ORDER DEFINED
Produced by Alex Jones, known for telling the truth about white supremacists, and Jason Bermas (Loose Change), this documentary meticulously details the who, what, how, when and why of those who secretly, and not so secretly, run and ruin the world. It's long but it's definitely a must see.